Iceman Cometh Mountain Bike Race | "I am doing this next year!"
Another Iceman has come and gone!
As the mountain bike season ends, I can't help but to reflect on the race that started my love for racing.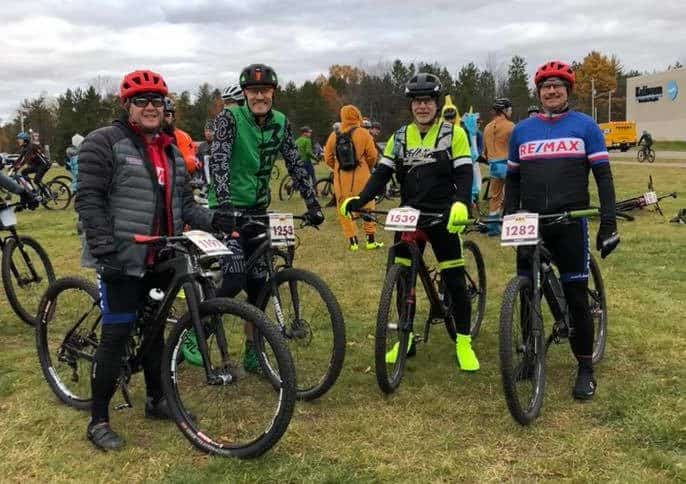 How my Iceman and racing sickness began… 
I will take you back to 2011.  I was new to recreational mountain biking for fitness and fun.  I was on a Specialized Hardrock 26'er RIPPING the trails.  I would ride Bass River mountain bike course near my house.  I actually remember thinking this flat course has hills.  LOL  I remember stopping every mile or so to catch my breath.   I loved the woods, the high heart rate, the adrenaline of winding through trees.  It didn't matter I was on a $400 bike, it didn't matter that my bursts of speed only came 50 yards at a time and then I needed to take a break.  Over the summer of 2011 I started to get a little faster and started breaking and wearing out my $400 bike.  Now keep in mind, I was probably in the 250lbs range at the time.  That bike wasn't new either, it had dry rot tires and 7 year old cables, chain, everything stock.  As I started to need new cables, tires, etc… I met a few guys in a Holland bike shop (at the time Lakeshore Cycle) Chad Rector, Jason Bailey, and Matt Metzer, avid riders out of that shop.  Chad quickly saw I had a passion for my new found sport and took me under his wing!  For those who know Chad, you can ask him anything and get a 5 paragraph email of why, how, when about ANYTHING.  I started riding with the guys and never once did they ever make me feel like a slow rookie.
Fast forward to November that year. I was in Traverse City with some siblings on a wine tour.  Suddenly, I saw mountain bikes EVERYWHERE in Traverse City.  The wineries, the restaurants, the grocery stores, every car had a bike on the back.  I asked a guy at the restaurant where we were, "What's up with the bikes in town?"  "It is the ICEMAN Cometh Challenge this weekend" he replied.  "What is that?" I asked.  He went on to tell me all the details of the race.  Without skipping a beat, I went back to Amy and said, "I am doing this next year!"  The siblings were in a little disbelief that I, at a moment's notice, was convinced to do this bike race.  That was one of those moments you don't forget.
The following spring I started to ask around and meet guys who had raced it.  Josh Hill and Bill Stratton come to mind as people who I asked tons of questions, helping me prepare for something I had never done.  I can remember asking Bill how many laps at the State Game Area was similar to the course.  He said probably 3 with some extra gravel road miles.  I would tell Bill about climbing that hill in the middle of the lap and stopping at the top and taking a break.  He would say "Ok, now do 1 lap without stopping then work up to additional laps."  I can remember vividly all the moments of WHAT?  No breaks, 3 laps?  WTH??
Fast forward to November 2012, my first ICEMAN!  The morning of the race was one heck of a way to start your race experience.  Jumped in my car to head to the start line and my car's serpentine belt broke, and I couldn't steer my car.  I was already nervous and jittery and now this.  I asked a few of the guys in the hotel, "any room on your bike rack?"  Nobody had room.  Amy says to call a taxi.  I ignored the idea, calling wreckers as if the wrecker would give me a ride after taking my car. No success.  Finally I called a taxi (yes she was right) and told them to bring a van taxi so they have room for my bike.  It was a snowy morning, like many Iceman races, and now I had to figure out what I needed to race in as I wasn't going to have the hand off option to Amy at the start line I had planned.  Nervously watching the clock and waiting for the taxi, I was down to just my race gear, ready to go.  I was doing the time calculations and figured if the taxi gets here in 5 minutes and drives average speed to Kalkaska I would have 5 minutes to spare for my wave time start.  I get in the taxi and there are 2 other guys who were pretty hungover and missed their rides to the start line.  The taxi driver was very nice but a very slow driver and really talkative.  Minutes seemed like hours. I'm thinking, "yeah yeah lady, get me to the start line PLEASE!" LOL.  In the meantime, Amy stays back with the car because we need it fixed to get home Sunday.  Shops are only open on Saturdays.  She did have the text alerts set up on her phone which came in handy later.  The taxi driver pulls up near the start line. I pay her and grab my bike.  I hear over the loud speaker, "There goes wave…"- lets say 35, I don't remember the number.  Whatever wave number it was, mine was 2 away from that.  6 minutes…  I started making my way to the crowd of my class.  5, 4, 3, 2, 1 you're off!!!  Somehow I pulled it off!   Made it on time and was racing!
Amy and I didn't even talk about where she would be or how that was going to work.  She was in the service station and getting the text alerts; "He made it to the start!"  Then, "he made it to Dockery." She was talking with a few other people in the station's waiting room describing the morning we had.  The car fix took forever and she was finally able to head to Timber Ridge Resort (finish line).  I had finished in 2hr 56min and with no extra clothes or anything at the finish.  I was standing near a heater shivering and called Amy and said, "I finished!  Where are you?"  I had to wait about 30 minutes around that heater eating cookies with other riders who didn't have gear to change into as well.  Amy texted, "I am pulling up to Timber Ridge" and I replied, "See you up by the gate."
Here is the photo she took of me pulling up to the car!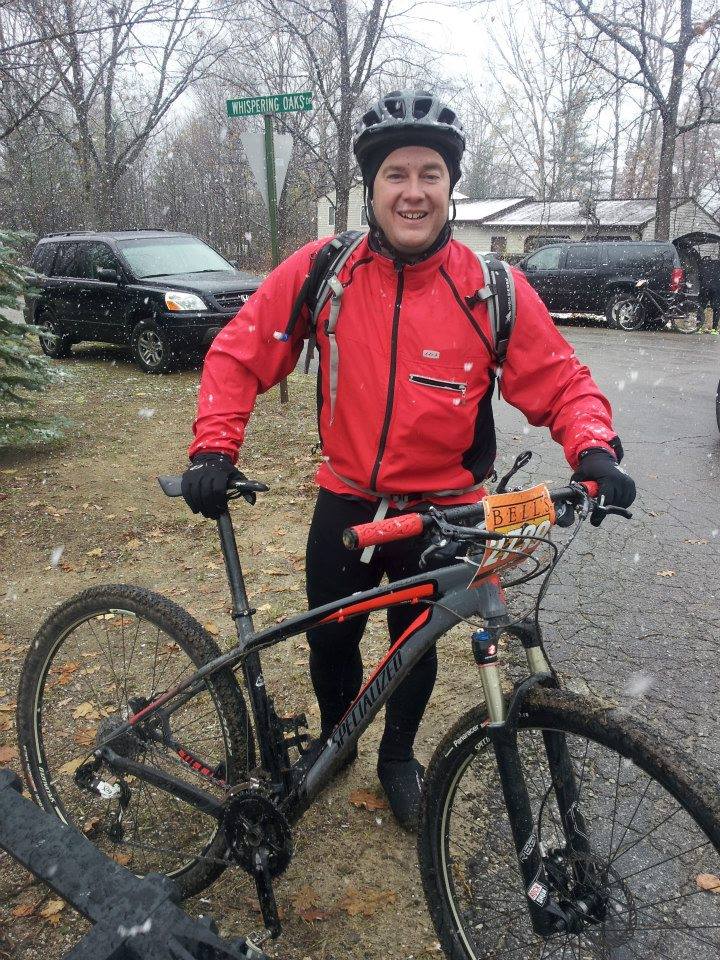 Despite the pre-race experience I WAS HOOKED on mountain bike racing, in particular, the Iceman Cometh Challenge.  I have raced Iceman every year since!  The energy this race puts out is electric, the crowds are huge, the participants number approximately 5,500 racers.  Iceman got me into racing, and 6 years later, I am as excited about it as the first!
Below are photos and videos from over the years!  We now have a REMAX team of about 30 riders and Iceman Cometh is our year end super bowl!  See more about us at remaxadventures.com
Some of my results from 2012 to Present
What our REMAX team has grown to
Iceman Video from 2013